Need help...now?

No time for a private lesson?


Join the Dello On Demand weekly video evaluation program personalized to fit your swing and schedule. Get your swing professionally evaluated by Coach Dello weekly. Join Dello On Demand and receive your personal evaluation complete with drills and custom workouts. Keep yourself on track throughout your season.
Let the professional instruction come to you!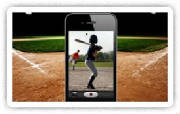 It's easy!
Join Dello On Demand (below)

Film your game or practice swing.

Email your video to Coach Dello.

Receive an email with your professional evaluation by Coach Dello complete with...workouts, drills and suggestions for your personal improvement.
Monthly Program

(4 Weekly Evaluations)

Once A Week

Video Evaluation

for a total of 4 evaluations of your game or practice swing by professional hitting coach, Tony Dello each month.