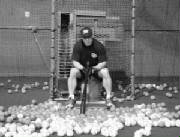 Coaching Career:

Tony Dello, former minor league hitting instructor with the Arizona Diamondbacks, spent 8 seasons with the Diamondbacks organization. In 2006 he was the Hitting Coach for the Tennessee Smokies, Double A affiliate. He held the same role in 2005 as hitting coach for the Southbend Silverhawks, Class A affiliate. He guided SouthBend to a .281 team batting average in 2005, best in the Midwest League. The team set 8 offensive records while leading the league in homeruns. Carlos Gonzales was named Midwest League Most Valuable Player and Prospect of the Year.

He has tutored Major League Players such as Mark Reynolds, Miguel Montero, Emilio Bonifacio, Alberto Gonzalez and Carlos Gonzales.

He spent 6 years on the Arizona Diamondbacks Major League Staff, where Tony was responsible for pitching batting practice from the left side, hitting pre-game groundballs, then charting each pitch of that day's game.

Tony completed 8 successful years coaching at the collegiate level leading the league in hitting at Northern Illinois University (IL) and James Madison University (VA). In 2010, Tony was inducted into the High School Hall of Fame (Woodstock HS, IL).





2007-Present Tony Dello Baseball Professional Hitting Academy

Works with players of all levels including professional hitters in the off season.




2012 Arizona Diamondbacks Major League Staff Assistant

2007 Chicago Cubs Major League Team Staff Assistant

2006 Tennessee Smokies Hitting Coach (Double A Affiliate Arizona Diamondbacks)

Led League in Homeruns (127)
Finished 2nd in Hitting (.255)

2006 Team USA MLB World Baseball Classic Staff Assistant

2005 South Bend Silverhawks Hitting Coach (Class A Affiliate Arizona Diamondbacks)

2005 Midwest League All Star Game Hitting Coach (Peoria, IL)

1999-2004 Arizona Diamondbacks Major League Team Staff Assistant

2004 Arizona Fall League Scottsdale Scorpions

2003 U.S.A. Olympic Qualifying Team Staff Assistant

2002 NL West Champion AZ Diamondbacks Staff Assistant

2002 National League All Star Team (Miller Park in Milwaukee, WI)

2001 Arizona Diamondbacks Major League Staff Assistant

2001 Visited the White House and met President George W. Bush.

1999 Arizona Diamondbacks Major League Staff Assistant

1999 Milwaukee Brewers Major League Staff Assistant

1998 Arizona State University Director of Youth Instruction

1998 James Madison University Hitting Coach

Top 30 Recruiting Class

Led League Hitting (.316)

School Record SB (132 in 56 games

Finished 11th in country for stolen bases

1997 Northern Illinois University Hitting Coach

Led League Hitting (.323)

Established Team Records for Runs, Hits, Doubles and Triples

1996 McHenry County Junior College Hitting Coach

40-15 Record

Finished 6th in the country NJCAA Final Poll

Finished 10th in the country in hitting

Skyway Conference Champs, Sectional Champs, Region 4 Champs

1995 McHenry County Junior College Hitting Coach

1994 Kishwaukee Community College Hitting Coach

Finished in the top 5 for Hitting in the country (.342)

201 stolen bases in 47 games (4.3 per game)

1993 Kishwaukee Community College Infield/Hitting Coach

1992 Los Medanos Junior College (CA) Hitting Coach

1991 St. Mary's (Moraga, CA) Hitting Coach, Camp Director